American Icons
They heralded a new era of prosperity for Anheuser-Busch and a weary nation's return to optimism. From their first appearance in 1933 to their enduring presence on the American landscape, the Clydesdales are more than the symbol of Budweiser beer; they are the living embodiment of America's great industrial spirit.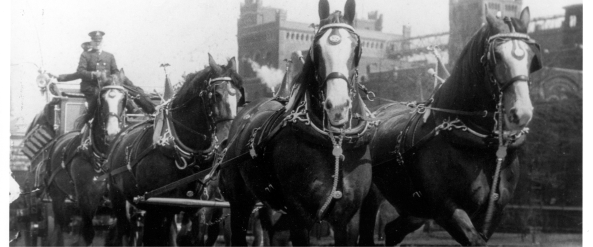 QUINTESSENTIAL DRAFT HORSES
More than 300 years ago, this imposing breed was first developed for farm work in the region of Clydesdale, Scotland. They are most easily recognized for their substantial feather - the long hairs of the lower leg that cover the hooves. Despite a dressy appearance, they are capable of pulling a 1-ton load at 5 MPH.
Origins
The Budweiser Clydesdales made their first-ever appearance on April 7, 1933. A gift from August A. Busch, Jr. and Adolphus Busch to their father in celebration of the repeal of Prohibition, the presentation of the original two six-horse hitches of champion Clydesdales moved father, sons, and drivers to tears.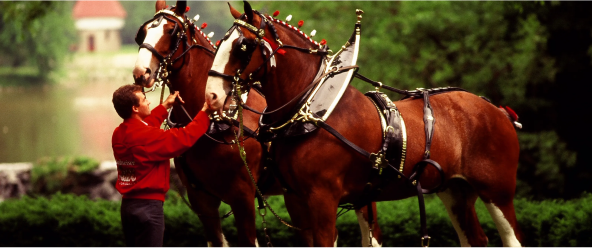 DRAWING BEER & CROWDS
No strangers to television broadcasts and parades, the Budweiser Clydesdales have figured prominently in two Presidential inaugurations. They appeared in Missouri native Harry Truman's inaugural parade in 1949 and then again for Bill Clinton's in 1993.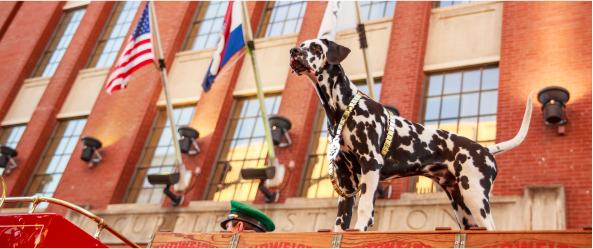 A CLYDESDALE'S BEST FRIEND
In 1950, the Budweiser Clydesdales received their very own mascot: the Dalmatian. Traditionally used to guide horse-drawn fire carts, this spotted dog serves as a friend and companion to the team, sitting aside the driver. To see if they are visiting near you, check out the hitch schedule.